In the mid-80s, the generally sullen and often depressive singer and songwriter who fronted the English rock band The Smiths, Morrissey, wrote a hit song called "Panic".
You probably know it — it includes the famous line "Hang the DJ, hang the DJ, hang the DJ" and starts like this:
Panic on the streets of London
Panic on the streets of Birmingham
I wonder to myself…
Could life ever be sane again?
The Leeds side-streets that you slip down
I wonder to myself…

Hopes may rise on the Grasmere
But Honey Pie, you're not safe here
So you run down to the safety of the town
But there's panic on the streets of Carlisle
Dublin, Dundee, Humberside
I wonder to myself…
I've listened to this song a couple of times this week, after it was included on the playlist of one of my favourite radio shows, Cathal Murray's late night festival of music that carries wisdom about life, Late Date.
As coronavirus continues its spread around the world, it seems that general panic is not far away from many people's minds, and I've been trying my best to observe the general behaviour around the phenomenon.
Marty Whelan, of another Irish radio station, Lyric FM, on his morning mix show on Thursday read a few lines about Irish plans for coronavirus from one of the morning newspapers:
It says, 'If a person is so sick they need to be hospitalised, they will be treated in the 12-bed national isolation centre at Dublin's Mater Hospital.'

… What happens if there's more than 12? I'm not being smart, I'm just curious…
When respected professors can go on Twitter and post things like the below, without any corroboration or substantiation from the authorities, is it any wonder that a general sense of panic can take hold?
And what are the ramifications of general panic? Mass anxiety? Food shortages? Social unrest? Violence and murder?
When the potential of a Black Friday bargain can create situations like this…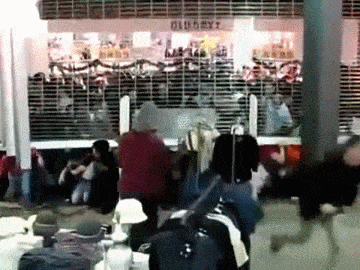 … what might happen if people suddenly thought that survival was at stake?
Panic is a natural response at that point. Natural, but largely unproductive, and one which should perhaps be recognised for what it is and allowed to pass, and then quickly replaced with some calm preparedness.
While preparedness must be sought at every turn, panic is borne out of fear and powerlessness and must be recognised and resisted.
The fine line between preparedness and panic
But there can be such a fine line between the two, and many of us, driven wild by the emotion of fear and the sense of powerlessness, can take a wrong turn at the fork in the road.
To panic is to rush around wildly, endangering rather than helping ourselves and anyone close to us.
To prepare is to analyse any situation in which we might find ourselves — from unemployment to running out of money to illness to, yes, a novel coronavirus pandemic.
To prepare is to strengthen ourselves with the information we need, and only from the sources both responsible and qualified to hand out that information.
To prepare is to compel ourselves to think, perhaps for the first time in a long, long time, about what's essential and what is just nice to have.
To prepare is to closely consider how the things we give our attention to can affect our outlook, and to consider anew where we place that attention.
To prepare is also to let ourselves go: to closely consider the things we can control and the things we cannot; to have the grace to accept those things we can't control, and to go with the flow of wherever a life might bring us.
David Whyte on the conversational nature of reality
This opposite and paradoxical sense of control and lack of it has occupied some of the greatest minds for millennia. Life is nothing so much as a series of paradoxes.
David Whyte, the great English poet, gave an interview on the Sam Harris Making Sense podcast recently.
In it he spoke about what he describes as "the conversational nature of reality", the interface between us as individuals and the world as a general force that can both weigh down upon us and liberate us, and how this meeting is where things are most real.
Whatever a human being desires for themselves will not come about exactly as they first imagined it, or first laid it out in their minds. Equally, whatever the world desires of you will not happen, no matter how coercive that world is.

What always happens is the meeting between what you desire from the world and what the world desires for you. It's this frontier where you overhear yourself and you overhear the world, and that frontier is the only place where things are real.

That to me is the conversational nature of reality. The discipline is to stay on that frontier as fully as you can.
Whyte the poet and Morrissey the songwriter are both north of England folk. They were both born in the 1950s, and each grew up in small towns about an hour apart (Davyhulme in Lancashire for Morrissey; Mirfield in Yorkshire for Whyte).
There could be a cultural and geographical sentiment to their outlook. Or it could be that each one, through their art, touches on something universal.
The Smiths song "Panic" was released in 1986, when the tragedy of Chernobyl was at its height and everyone experienced the very real anxiety from the threat of Cold War escalation and nuclear fall-out.
Fear, powerless and panic can easily take hold if we allow it.
Instead, instilling a sense of preparedness — first by deciding what's essential and letting go of what's not, and second by aggressively interrogating the sources of our information and silencing the dangerous bullshit that can enter our lives every minute of every day through our technology — might be the buffer all of us need to shield us from recurring waves of sensationalism and alarm.
https://shanebreslin.com/wp-content/uploads/2020/02/Blog-Graphics_prepared_panic.png
450
800
shanebreslin
https://shanebreslin.com/wp-content/uploads/2017/11/logo-white-3.png
shanebreslin
2020-02-28 11:14:34
2020-02-28 11:40:10
The fine line between preparedness and panic